Au cimetière Montparnasse, il y a une tombe en marbre blanc avec deux noms : Carol Dunlop (1946-1982) . Julio Cortazar (1914-1984). En 1990, effectuant mon reportage sur les "Autoroutes du Sud de la France", je n'avais encore jamais entendu parler de ces deux écrivains.
Peu de temps avant la mort de l'écrivain canadienne Carol Dunlop, l'écrivain argentin Julio Cortázar et sa femme décident de parcourir, lentement – très lentement -, l'autoroute du sud, en France, dans un camping-car. Contrairement à l'utilisation que l'on fait en général d'une autoroute, ils vont y voyager sans hâte et sans stress, s'arrêtant sur toutes les aires de repos. De ce petit voyage "intérieur" va naître, un mois avant sa mort, le dernier livre de Julio Cortázar : "Les Autonautes de la Cosmoroute".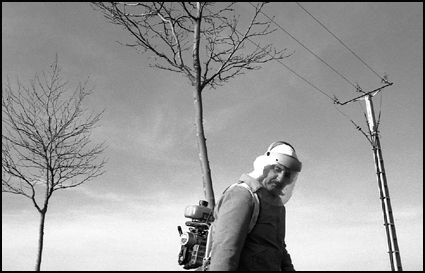 Autoroutes, Terre de Voyage

1990

Highway, Land of Voyage




(click on the picture)



In the cemetery Montparnasse, there is a white marble grave with two names: Carol Dunlop (1946-1982). Julio Cortazar (1914-1984). In 1990, carrying out my report on french highways, I had never yet heard about these two writers.
Shortly before the Canadian writer Carol Dunlop died, the Argentine writer Julio Cortázar and his wife decide to cross – slowly, very slowly-, the south highway, in France, driving a camper. Contrary to the use which we make generally of a highway, they are going to travel without haste and stress there, stopping on all the rest areas. From this "internal" journey would be born, one month before its death, the Julio Cortázar's last book: "The Autonauts of the Cosmoroute".